Persuader by Lee Child
~Jack Reacher is tasked by the DEA to rescue their agent from an undercover mission gone wrong.
This was the first Reacher book written in first person that I've read. It humanized Reacher, which was a different experience than his "mysterious stranger" aura and raised the stakes. I actually doubted his ultimate success more than once.
The Shambling Guide to New York City by Mur Lafferty
~Zoe Norris thought finding a job in New York City was tough, but surviving her coworkers and the new world of the undead.
I loved how Zoe interacted with the fantastic creatures from the very beginning. Plus the mix of absurdity, humor, and tension made it tough to put this book down. It's guaranteed that I'll be reading the second Shambling Guide book.
Taking the Titanic by James Patterson & Scott Slaven
~A pair of thieves pose as newlyweds aboard the Titanic to pull off the biggest heist of their lives.
Despite a slow start, the story eventually picked up to become interesting. There were a number of subplots, and the historical elements felt genuine to the story. My one complaint was that the end was pretty unrealistic.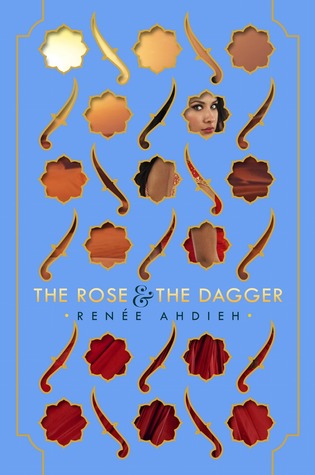 The Rose and the Dagger by Renee Ahdieh
~After being separated from Khalid, Shahrzad must figure out two things: how to break the curse and get back to her husband.
I knew that I wanted to read this book as soon as I finished The Wrath and the Dawn. It was just as good as the first book, with fantastic romance and plenty of action. Plus the ending was absolutely perfect.
Let's Play Make Believe by James Patterson and James O. Born
~Divorcees Christy and Martin embark on a wild, romantic game of make-believe that won't end well.
The best part of this novella was that it didn't feel like a novella. It was intense from the very beginning, and I didn't see the twist coming.
Violent Ends by Shaun David Hutchinson (Editor), Kendare Blake, Steve Brezenhoff, Delilah S. Dawson, Trish Doller, Margie Gelbwasser, E.M. Kokie, Cynthia Leitich Smith, Tom Leveen, Hannah Moskowitz, Elsa Nader, Beth Revis, Mindi Scott, Neal Shusterman, Brandon Shusterman, Courtney Summers, Blythe Woolston, and Christine Johnson
~It only took twenty-two minutes for Kirby Matheson to change his high school forever, but it took a whole lot longer than that for him to become a monster.
This book was nearly impossible to put down, and it painted a multi-dimensional picture of Kirby and the others impacted by a school shooting.