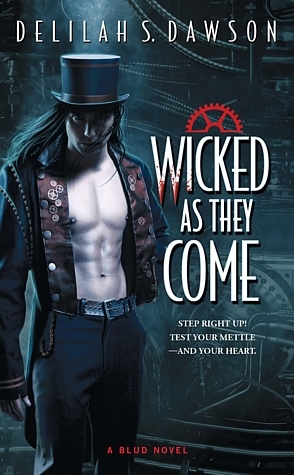 Tish Everett had no idea what she was getting into when she opened the beautiful locket that she found at an estate sale. She soon found herself in the presence of Criminy Stain, a Bludman (better known as a vampire in Tish's world). He cast a spell on the locket to bring his perfect partner to the distant land of Sang, and she fit the bill. But before Tish can even understand this new world around her, her locket is stolen. Tish and Criminy must battle sea monsters, ghosts, and the evil Mayor of Manchester to get it back. But does she really want to go home? Or has she fallen in love with the rakish Criminy?
Where do I start with Wicked as They Come? There was just so much in this book that I loved.
Tish Everett had just the right balance of sass and normalcy. She doesn't have a huge problem standing up to Criminy even though he's the equivalent of a vampire (minus the dislike for garlic and danger from sunlight). Yet Tish openly shows her despair at the idea that she won't get her locket back or be able to see her grandmother again. Plus there's her relationship with Criminy. She's torn between falling in love with him and returning to her other life. That created fantastic tension.
Criminy was also a perfect romantic hero. Hard when he needed to be, and gentle and vulnerable with Tish. For a character whose spell caused Tish to be taken from her world, he was incredibly likable.
I've had trouble with books that have settings that are too different than the "real" world. That being said, the world of Sang felt incredibly real. The mythology and terrain wasn't so different from the "real" world, so I didn't have much trouble keeping things straight. Plus it combined some of my favorite things: vampires and steampunk.
While I wish that I'd started Wicked as They Come/the Blud series sooner, it's probably for the best because now the entire series is out. No waiting (except for Barnes & Noble shipping). I will absolutely be ordering the rest of the series once I make it through the unread books on my shelf.
Wicked as They Come by Delilah S. Dawson would be a fantastic choice for someone interested in vampires and steampunk.
Rating: 
Wicked as They Come by Delilah S. Dawson is available as a paperback and eBook from Pocket Books.