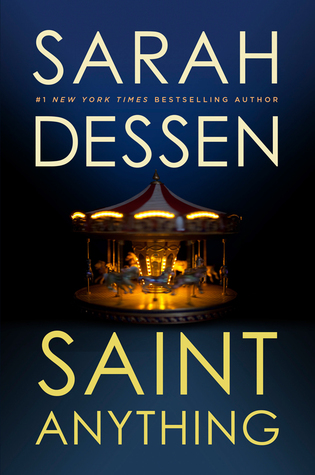 Sydney is used to her older brother, Peyton, hogging their parents' attention and worry. But when Peyton is sentenced to jail after a drunk driving accident, he leaves a gaping hole in the family and Sydney struggling to find her place. She changes schools and even tries the pizza at a new-to-her pizza parlor, Seaside. There she meets Layla, Mac, and the rest of the Chathams. Amidst this chaotic family, Sydney discovers what it means to be seen for herself rather than as Peyton's little sister.
YA hasn't been my preferred genre for a while, and I typically don't pick up stories with "normal" problems like Sydney trying to find her place. But I've had Saint Anything on my shelf for over a year. I figured it would satisfy my craving for a book with a slower pace. Boy, I'm glad that I picked it up.
Something about Saint Anything struck a cord with me. But I can't put my finger on exactly what that something happened to be. All the elements of the book converged well: the friendship between Sydney and Layla, Sydney struggling with her place in her family and with friends, the creepy family friend, and even the romance. I'm not typically a fan of romance in YA since it has a habit of taking over the entire story. But the romance felt so natural and unobtrusive in the story that it worked for me.
I also loved how Sydney dealt with problems bigger than just typical high school life. Her brother in jail and the creepy family friend are real issues that could happen to just about anyone. However they're not typically explored in YA (at least in the books I've found). They made for some pretty compelling tension that kept me turning the page. This wasn't as relaxing of a read as I expected, but it was a fantastic book.
Saint Anything would be perfect for a reader interested in a YA title that makes heavy/difficult issues relatable.
Rating:  
Saint Anything by Sarah Dessen is published by Viking and is available as a hardcover, a paperback, and an eBook.