It's only a matter of time before I give in and order a truck-load of books from Barnes & Noble. Right now, I'm trying (and mostly succeeding) in convincing myself to wait until after I make a dent in my pile of unread books. That doesn't mean I don't have an ever-growing list of titles, including books that're coming out this year.
Here of six of those soon-to-be published books that I'm really looking forward to reading and putting on my shelf:
The Cormorant (Miriam Black #3) by Chuck Wendig (February 23)
I loved the first Miriam Black (Blackbirds) when I read it last month. Loved it enough that I'm ordering the next two books at the same time and would buy the rest of the series if it was out yet. The challenge is going to be rationing them until #4 comes out in 2017.
Dream House by Marzia Bisognin (April 5)
So this book was actually on my list of books I was looking forward to reading last year. While the book did come out in Italian last year, there was never a release date for the English version. Now it looks like it's coming out in April. I've been a fan of Marzia's YouTube channel for a while, so I'm interested to see her take on horror.
Strike (Hit #2) by Delilah S. Dawson (April 12)
Hit left so many unanswered questions that I can't not pick up the next book in the series. From the summary, it looks like it's going to be a fantastic thriller. And I'm hoping that the cover is just as pretty as Hit's is in-person.
The Geek Feminist Revolution by Kameron Hurley (May 31)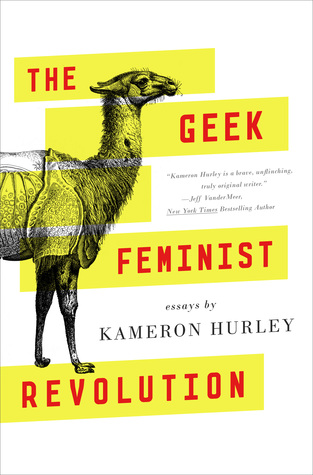 Kameron Hurley's blog is probably my favorite writing as business-related blog on the internet. Her writing refuses to pull punches, is freaking smart, and always incredibly educational. I'd love to pick up one of her books, but they're not my cup of tea  So I'm wicked excited to check out this book of essays taken from her blog with a few new ones.
Pride's Spell (Sin du Joir #3) by Matt Wallace (June 21)
Even though I haven't read the second Sin du Joir novella yet, I'm excited for the third novella to come out this summer. This urban fantasy series is a perfect mix of humor and fantasy. I'm not sure what it's about, but I'm going to be pre-ordering it as soon as I finish Lustlocked.
Six Wakes by Mur Lafferty (Fall 2016)
The pitch for Six Wakes took the SciFi/Fantasy community by storm last summer. It's a clone, murder mystery where the clones operating a spaceship wake up to find their own dead bodies strewn about the ship. And one of them did it. I don't typically pick up science fiction, but I'm going to be grabbing this one when it comes out.