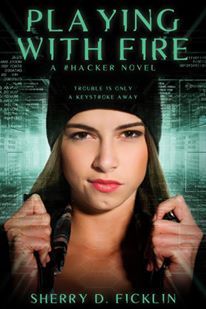 When Farris and her father move to a military base in North Carolina, she knows it's her opportunity to rebuild her life. But soon the challenge of navigating high school cliques becomes the least of her problems when a series of computer glitches threaten the security of her father's aircraft squadron. Farris soon finds herself on a mission to discover the truth, a mission that puts her on the hunt fora  dangerous hacker determined to ground the squadron at any cost.
I downloaded Playing with Fire after finishing the first book of Sherry D. Ficklin's Stolen Empire trilogy a few months ago (I read the second book first last summer). The premise of a teen computer whiz going toe-to-toe with a hacker piqued my interest, but the book ended up having too much high school drama/teen romance for my taste. That's not to say it's not well done. It just wasn't the right book for me.
As Farris tried to figure out who was behind the computer glitches, I struggled alongside her. I fell for the red herrings just as much as she did and even had a few suspects that she left off her list. Perhaps the best part of the mystery was that I only figured out the bad guy when Farris made the connection for me.
Not only was Farris an excellent narrator, all of the other characters jumped off the page. I loved their complicated relationships, how they played off one another, and their personalities. Pretty much all of them had very real world problems. Though I found a few characters to be a hair cliche: the jock's sweet sister, the goth couple, and the love interest with a big secret.
Cliches seemed to happen a whole lot in this book. Farris was "not like other girls" because she ate corn dogs instead of salads, could hold a conversation on football, and drove a Mustang that she and her father restored. Plus Farris was the new girl in the center of a love triangle with two guys who just couldn't get along.
Overall, I liked Playing with Fire and I'm not opposed to picking up another of Sherry D. Ficklin's books. It just didn't work for me, so I don't think that I'll be reading any more of this series.
Playing with Fire would be a great read for someone interested in a YA high school drama mixed with high-stakes computer hacking.
Rating:
Playing with Fire by Sherry D. Ficklin is published as an eBook and in paperback by Clean Teen Publishing.